If you didn't already know, architects are highly competitive by nature. They want to win the project, develop the best solution to challenges, negotiate unbeatable costs, beat the schedule, unite the perfect team, and create something impactful and memorable. While this is all excellent news for our clients, this highly competitive nature often requires a hard reboot and a chance to pause. Enter half-time, also known as Wellogy Retreat 23.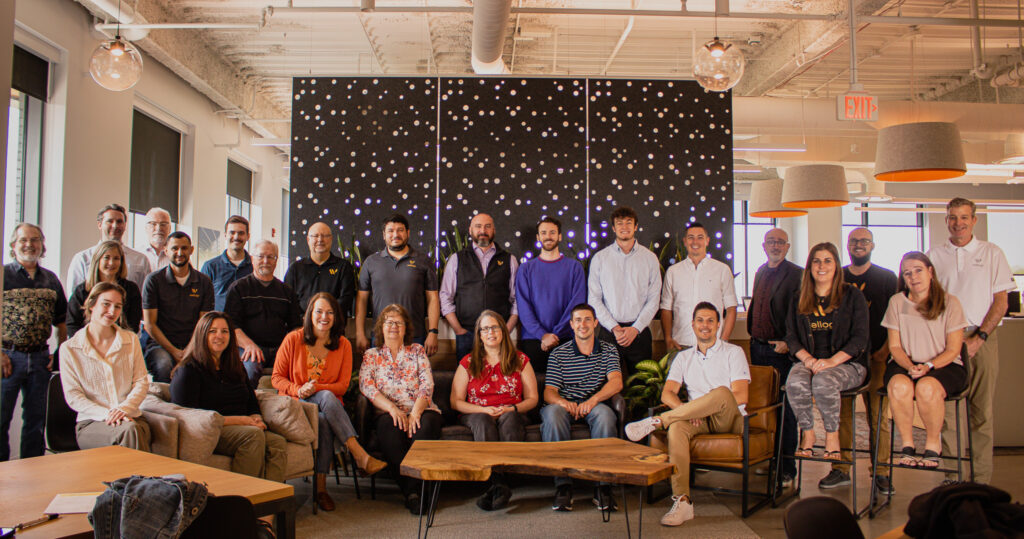 Into the locker room.
Our team recently gathered in our new Dublin, Ohio office to spark ideas, build our team, look to the future of architecture, and discuss our evolving strategy to provide the best possible experience and value for our clients. It was a retreat full of new ideas, team building, joy, and the realization that we were becoming who we set out to be a little over a year ago when we rebranded to Wellogy.
The Ted talk format for our three-day retreat featured Wellogy team members owning relevant topics and sharing their knowledge, experience, and research. Topics included AI: Architecture and the Future of Design, Sustainable Structures, Designing for the Neurodiverse, Wellogy Design Process, Healthy Building Materials, Storytelling, Teaching our Team, Visualization: Style Guide for the Design Process, WFH: Lasting Impacts, and Developing & Growing Relationships.
The sessions provided valuable information and insight to help shape our firm as we search for and incorporate ways to build and be better together. Team building was also a vital element of the retreat. We worked in small groups to compile wellness kits for those in need, competed in a modeling charrette, and learned about our different working styles through individual Myers-Briggs assessments. Bridge Park Pins Mechanical and Fado were the backdrop for many laughs, shared stories, and memories.
Now that we have your attention…we are in our 28th year of business and into our second year of officially being Wellogy. The hope and optimism we felt when we rebranded is still ever present in our evolved culture and mission. Our passion for designing places of well-being is sparking new project possibilities and solutions for our clients. The retreat reminded us that we love the game of architecture and the opportunity to unite resources and build great teams to solve challenges. Through our listening, learning, and team building, we know that if we want to change the world through design, we must also change ourselves and how we live, work, and inhabit our spaces. Our team is ready to help you complete your next project. Wellogy on three!
Believe.